JULIET GARRETT'S BIO
Hey, thanks for stopping by. I'm a singer/songwriter from a small island in New York state, currently living in London (via Brooklyn). for my parent's sake, I'll say 'I split my time. ha. ha. 
I frequently play at Rockwood Music Hall in NY. recently, I was also honoured to be featured as part of Annie O's standard sounds showcase in the East Village. I've played around Europe at venues ranging from the Betsey Trotwood in London to Malmö live concert hall in Sweden, to the Jazz Club in Torino, Italy (where they wrote about me in Italian- that was cool!).
---
WHAT DID I DO WITH JULIET GARRETT?
Juliet Garrett was one of the first remote percussion recordings I have done in London. I met Juliet's producer, Fiona Cruickshank, whilst recording at AIR Studios, London with Fortnight In Florida.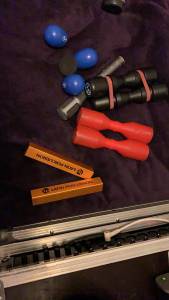 Fiona joined AIR Management in 2018 and has already been involved with several high-profile film and TVscores, classical recordings and pop mixing projects. These include the mix for How to Build a Girl for Oli Julian, the co-mix for Dario Marianelli's score on Bumblebee, score editing and recording for Marc Shaiman on Mary Poppins Returns, music editing for Alan Menkin on Aladdin, and recording Prokofiev's Romeo and Juliet for the BBC's Royal Ballet/Balletboyz production. Album projects include mixing Jacob Collier's Djesse Vol. 2 and Six Lethargies for Keaton Henson.
They had recorded an EP at Snap! Studios in London and Fiona felt like some of the tracks were lacking certain energy in areas and could be livened up with some simple percussion parts. At the time I had recently acquired a Focusrite preamp and some decent microphones, so  I felt like I could do a good job from my home studio.
Fiona emailed me the stems and I took a couple of hours to listen to the tracks, record some different parts and send them swiftly back to her for mixing.
---