I grew up in Cardiff and I started playing the drums at around the age of 8. Music was ever-present in my life and I rose the ranks of the various orchestras, brass bands and percussion ensembles of the Cardiff and the Vale of Glamorgan music service. Most notably playing for the National Youth Orchestra of Wales, touring Europe multiple times with the High Schools Brass Band and performing with The Advanced Percussion Ensemble at festivals, music competitions and prestigious music venues around Wales and the UK.
In 2009 I turned down the opportunity to go to New York to play with the National Youth Orchestra as I was moving to London to further my studies in music at The Institute of Contemporary Music Performance. Here I got stuck into a Bachelor of Arts degree in Creative Musicianship and was awarded 'Best Overall Student' 2012 and 'Most Improved Drummer' 2013.
Since graduating I have continued to learn and grow as a session musician recording at some of the world's most established recordings studios such as Abbey Road, AIR, Snap!, 123 Studios and Rockfield. Working with world-renowned producers and engineers such as John Leckie (The Stone Roses, Muse, Doctors of Madness, Radiohead) Rob Wilks (The Foals, Florence + The Machine, Indoor Pets) Laurence Anslow (Fortnight In Florida), Fiona Cruickshank (Jacob Collier, Marc Shaiman, Alex Baranowski) and Brian O'Shaughnessy (Primal Scream, Band of Holy Joy, My Bloody Valentine).
Outside of the studio, I have performed and toured extensively around the UK and Europe with several different artists and bands such as Doctors of Madness, The Phenomenal Rise of Richard Strange, Harpo Smith, The Wishing Well, Orlando Seale and Swell and Fortnight In Florida. Supporting artists such as Nadine Shah, Johnny Borrell, Phil Manzanera, The Psychedelic Furs, Patti Smith, Ms Dynamite, Courtney Barnett and Nick Cave and The Bad Seeds along the way.
Whilst continuing to record and perform as a session musician I also mentor and tutor students of all ages and abilities on the drums, percussion and the music industry. Using my experience and knowledge to inspire them to further their own studies and ambitions to playing, performing and create music.
Musicians now need a wider skill set to forge a successful career in the music industry.  You have to understand and execute many different aspects of the online driven music business and be willing to constantly learn new things. You have to be able to create content, manage your time, manage money, manage social media, understand marketing, record high-quality video and audio, practice your instrument and master creative technologies such as logic, photoshop and final cut pro to put the content together.
Most recently I have been educating myself on the world of music marketing and putting into practice the things I have learnt with my originals project Fortnight In Florida. I have been building a fanbase on a global scale through the use of online advertisements. Driving listeners and new fans to our social media profiles and streaming platforms. For example on Spotify, within the space of 4 months, I had grown our listenership from 50 monthly listeners to around 3000. Unlocking Spotify's algorithmic playlists and engaging with our newly found global audience. This has helped grow our streams to over 150,000 in the first 6 months of 2020 so far.
Some of my biggest drumming influences include Chad Smith, David Grohl, Brad Wilks, Tony Royster Jnr, Aaron Spears, Dennis Chambers, Chuck Sabo, Bernard Purdie and Ian Thomas.
I'm forever moving my drums around to keep my mind thinking about new stickings and different ways to play my parts in interesting ways and myself out of my comfort zone.
I bought my Pearl Masters drum kit when I was obsessed with Chad Smith (Red Hot Chili Peppers) and Joey Jordison (Slipknot).
So much so that I copied the drum and cymbal brands that Chad Smith had at the time. I thought that having the same branded equipment as him would improve my playing and make me sound better. Which is definitely not true.
It's taken me nearly 10 years of experimenting with different drum sticks, skins and cymbals to find a starting base for my drum sound. I'm not precious about it but it's a good starting point for any project I'm working on to help me find the right sound.
I'm a big believer in keeping an open mind when working on anything creative, whether that's your project or somebody else's. You should always leave your ego at the door and don't take feedback and people's opinions as a personal attack on yourself.
You'll learn a lot more and grow a lot faster if you are open-minded, thoughtful and considerate. But also never be afraid to speak your mind if you believe it'll benefit a project and help improve the outcome.
MY CURRENT SETUPS
FORTNIGHT IN FLORIDA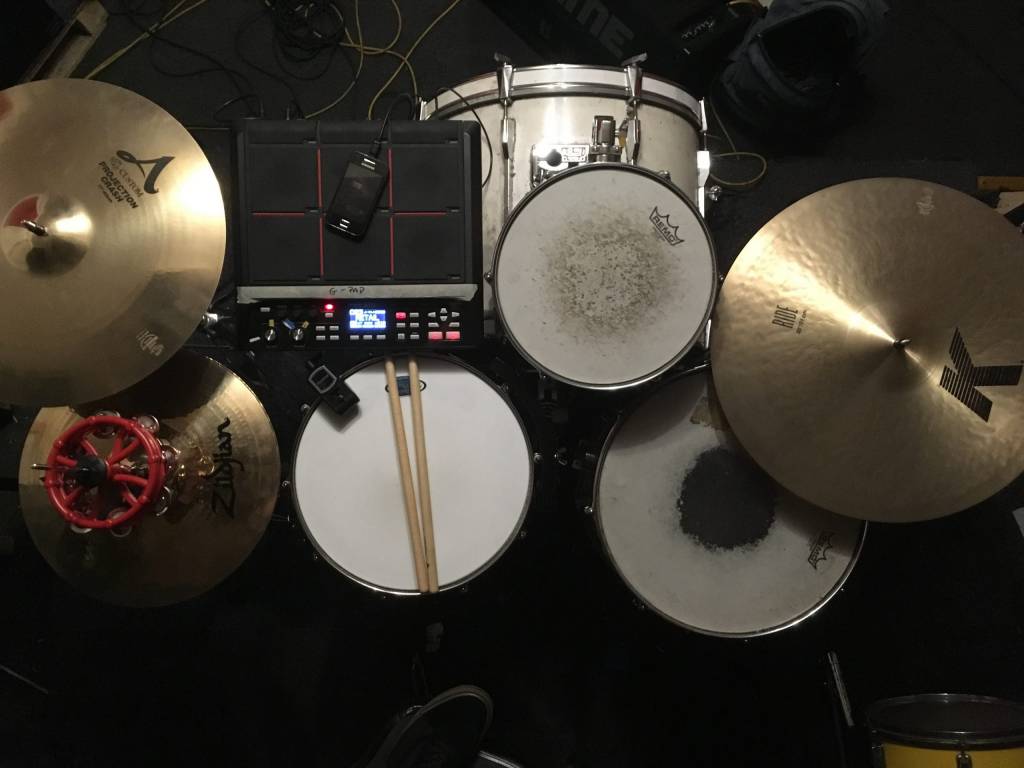 When I play live with Fortnight In Florida I use a hybrid drum kit. I trigger electronic sounds from my SPD-SX sample pad with acoustic triggers on my bass and snare drums. Most recently I've also been using a more stripped back set-up. This consists of an electronic bass drum pedal, SPD-SX sample pad, acoustic snare drum and cymbals.
As a band, it took us a lot of trial and error through live performances and rehearsal time to get such a simple, gig-ready, fast & easy to set up rig that worked for everyone. And it's still not perfect!
As a result of our experimenting, I now control the backing tracks, backing track vocals and click track all with the push of a single button/footswitch.
At the same time, I can also trigger extra samples and loops within my sample pad.
These audio tracks can now be individually controlled by the front of house sound technician giving them greater control of our overall sound.
This gives me and the rest of the band the freedom to concentrate on playing our parts without being distracted by laptops and other over complicated technologies.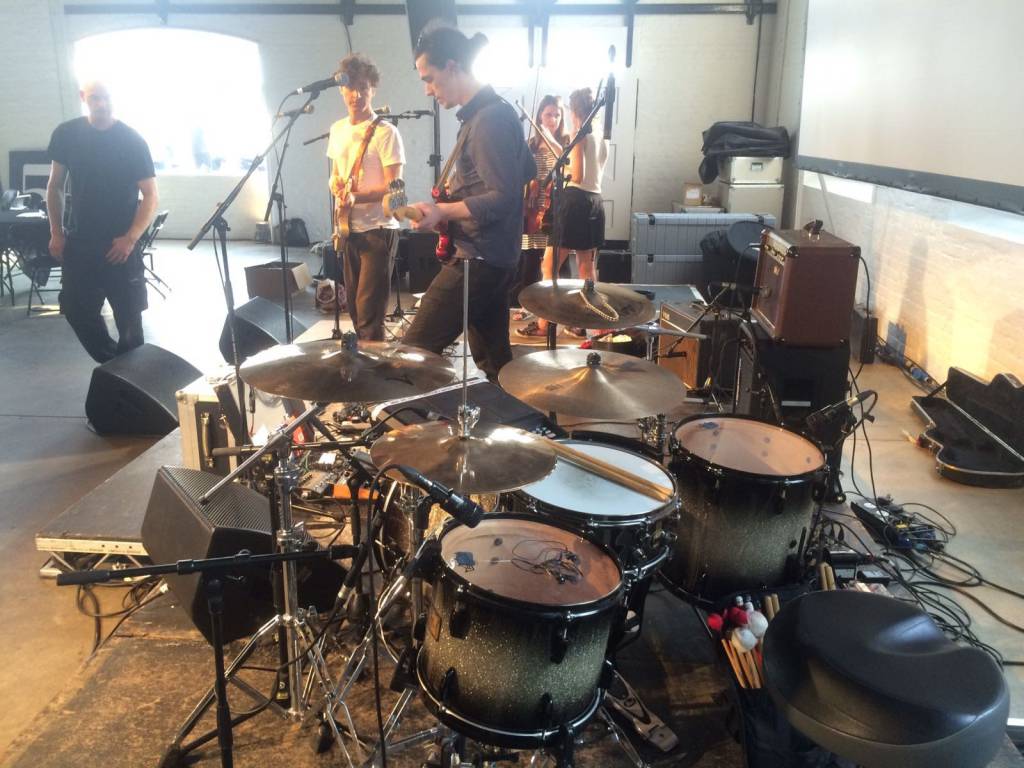 I've experimented with many different setups from my time in Harpo Smith  (previously The Swell). From acoustic, hybrid and fully electronic kits.
My current setup makes me think about drum fills and grooves in different ways as I have the high tom setup to the left of my hi-hat and a sample pad in the high tom position.
This forces me to think about my drum fills and patterns differently because I don't have a smooth transition to run up and down the toms that you get with a traditional setup.
This also helps me strengthen my ability to lead fills with my left hand rather than my right.
STRIPPED DOWN AND ACOUSTIC SHOWS
RECORDING, TUTORING & PRACTISING
In 2021 I built my own studio in West Hampstead where I can practice, teach and record from. Find out more about lessons by clicking either more about LESSONS or more about RECORDINGS.
I'm always on the lookout for new and interesting ways to create some noise, here are some of the tools I often use but I'm certainly not limited to them…
ACOUSTIC DRUMS
22×20 Bass Drum Pearl Masters Custom Maple Shell Diamond Burst
12×9 High Tom Pearl Masters Custom Maple Shell Diamond Burst
14×14 Floor Tom Pearl Masters Custom Maple Shell Diamond Burst
16×16 Floor Tom Pearl Masters Custom Maple Shell Diamond Burst
14×4.5 Mapex Black Panther Brass Snare Drum
CYMBALS
22″ Zildjian K Custom Ride
16″ Zildjian Projection Crash
16″ Zildjian EFX Crash
14″ Zildjian Master Sound Hi-hats
HARDWARE
Yamaha Groove-Wedge (Black)
Pearl Eliminator Single Bass Drum Pedal
Pearl Eliminator Redline Double Bass Drum Pedal
Pearl Eliminator Hi-Hat Stand
Pearl Eliminator Cymbal Stand x4
Pearl D-2000 Roadster Drum Throne
Pearl AX25 Adaptor Clamp
SKINS
22″ Evans EMAD2 2-ply Bass Drum Batter Head (Wide Foam Ring)
22″ Evans EMAD Reso Bass Drum Resonant Head
12″ Evans Genera Resonant Clear Floor Tom Resonant Head
13″ Evans Genera Resonant Clear Floor Tom Resonant Head
14″ Evans Genera Resonant Clear Floor Tom Resonant Head
14″ Evans Genera HD Snare Batter Head
14″ Evans Snare Res 300 Snare Resonant Head
16″ Evans Genera Resonant Clear Floor Tom Resonant Head
ELECTRONIC DRUMS
ROLAND TD-12KV V-DRUMS V-STAGE SERIES
TD-12 Percussion Sound Moudle™
KD-85BK V-Kick Trigger Pad™ (Bass Drum)
PD-85BK V-Pad™x3 (Tomtoms)
PD-105BK V-Pad™ (Snare)
ELECTRONIC CYMBALS
VH-11 V-Hi-Hat™ (Hi-hats)
CY-12R/C V-Cymbal™x3 (Ride/Crash)
SAMPLE PADS
Roland SPD-SX
Roland KD-7 Bass Drum Trigger
AKAI MPC One
ACOUSTIC DRUM TRIGGERS
Roland RT-10K Bass Drum Trigger
Roland RT-10S Snare Drum Trigger
STICKS
5A Vater Nude
7A Sugar Maple Vater
Brushes
Hotrods
Medium Timpani Beaters
Chalklind MS12 Medium Beaters
Various Headhunters Hybrid Sticks
PERCUSSION
Pearl Box Cajon (PBC-503) Natural Plate
Pearl Egg Shakers x3
Pearl Jam Block
Meinl Artist Series Shaker (Red)
Triangle
Various Fruit Shakers (Banana, Plum, Egg)
Various Sized Cow Bells
Kazoo
Whistle
Wooden Slide Whistle
Mini Maraca
Cymbal Sizzler
Hand Made Mouth Organ
LP 193 Click Hi-Hat Tambourine With Nickel Jingles
Remo Bongos
RECORDING SOFTWARE
Logic Pro X
Toontrack Superior Drum 3
Toontrack Electronic EZX add on
PRACTICE PAD
Pearl Practice Pad
Evans Real Feel Practice Pad
PROTECTION RACKET CASES
22″ Bass Drum Soft Case
12″ Tomtom Soft Case
14″ Floor Tom Soft Case
14″ Snare Soft Case
22″ Cymbal Soft Case
Hardware Case
Protection Racket Drum Mat
SPD-SX Custom Flight Case
It may be frustrating at first but you really do need to stick to the basics when you're starting off and work your way up, in speed, in complexity and ability. Patience, time and commitment is the best way to improve, there is no quick fix for anything.
And that's not just for drumming it's the same with anything in life, patience is key.
If you are bored when you are practising and it feels too easy then you are definitely doing something wrong! The great Bernard Purdie once said;
"I need people to know and understand that you never get tired of practice, you should never. You should be able to like what you do, have fun with it. When you have fun with it you can do anything because the whole  picture, as far as i'm concerned. As a drummer you need to have fun. And when you go to do your job, please have fun! Enjoy what you do and definitely, definitely love it. Like I do, I LOVE IT! " – Drumeo June 4th 2015 
I believe it's really important to push yourself out of your comfort zone. So don't join 10 different rock bands playing the same style or genre in a slightly varying way as you'll never grow as a player.
Play in as many different bands, ensembles, musicals and orchestras as you can.
Richard Strange once told me;
"You'll find that there are two types of creatives. Though's who say yes and the ones that say no."
I'm always saying "yes!" and looking for new ways to push my creativity and playing by taking on new projects or exploring new routes with existing ones.
You'll quickly find you don't need to master a style or genre before you start finding different elements that become useful in various aspects of your practice routine and playing, whether that's your own project or somebody else's.
An example of where I've used this experimentation is with the band, Harpo Smith.
I've had rehearsals with Orlando where we've experimented with different styles, and genres and often ripped up an established arrangement of a song. You can always come back to it.
We decided to do this because we were trying to find a more interesting way of creating a groove that will hopefully get people moving during a gig.
To achieve this we wanted to try and avoid using the more obvious patterns and rhythms often found in modern rock and pop genres in western culture.
My instant thought was to try some infectious drum beats that you can't help but dance to such as Reggaeton:
An Example of A Reggaeton Drum Groove:
The Reggaeton drum groove is a very catchy one but it really wasn't working for the song we were working on. So I simply searched the internet for the next style that came to my head which was the Songo.
There are two main types of music from South America which are often lumped together under the vague term, "Latin Music".  Afro-Cuban and Brazilian music all developed individually, so it's important to recognise the uniqueness of each individual style.
The majority of Afro-Cuban drum grooves have been adapted from the parts played by an entire percussion section.
That section usually consisted of a Conga player (conguero), a timbale player (timbalero) and a bongo bell player.
Hand percussion instruments are also often included such as the guiro, claves and maracas.
By having an understanding of the rhythms played on these instruments it allows one drummer to assume the role of many percussionists.
The Songo was the first Afro-Cuban style that had a drum part written for it with percussion parts being added later.
An Example of A  Nontraditional Songo Drum Groove:
This nontraditional Songo groove felt like it sat well with the lyrics and guitar pattern Orlando was playing.
So we stuck with it and experimented with a variety of different tempos and voicing's around the drums and cymbals.
I think it worked well because it's a linear drum groove. This means there's only one drum/cymbal or voice playing at a time.
This gives the drum groove a lighter sound leaving more audible space in the music to either leave silent or fill it up with another instrument.
How To Apply Creativity To Your Practice Routine
It's extremely easy to get bored very quickly when you're repeating the same piece of music over and over again in your practice routine.
And at times it feels like you are getting nowhere! We all hit these brick walls at some point.
I'll show you how you can use a small musical phrase or even a whole piece of music and adapt it so it has multiple uses and applications for your practice routine.
Take this very simple two bars of notation for the snare drum:
There are many different ways in which you can utilise these simple bars in your practice routine and turn one boring line that you've practised over and over again into something different that pushes your ability further.
Here are a few variations of what you can do with these two bars of notation:
Here we'll start with something extremely simply. All we have to do is to move the snare drum line to the bass drum.
And you don't have to limit yourself to the bass drum you can move the original pattern anywhere around the drum kit to any drum, cymbal or even a cowbell or percussion instrument such as a shaker.
You can also use your left and right hands or feet to play different combinations of this rhythm.
The possibilities are only limited to your imagination.
In this example, we've kept the original rhythm on the bass drum with the addition of an 8th note or quaver note pattern on the hi-hats with a backbeat on the snare drum on beats 2 and 4.
In this example, we've moved the original rhythm back to the snare drum and we now have a 'four on the floor' or 4 bass drums on every beat of the bar in the foot.
In this example, we've moved the original pattern back down to the bass drum and added 16th notes or semiquavers onto the hi-hat.
In this final example, we've moved one hand to the ride cymbal and added a 'walking feet' combination between the bass drum and hi-hat feet.
So there you have it. In just a few short examples we've managed to change one boring piece of repetitive notation into something with endless applications around the drum kit.
It's all down to your imagination and creativity.
How To Stay Creative
A teacher, mentor and good friend of mine once gave me this list of advice about how to stay creative that I've used and kept on my wall ever since he gave it to me.
30 WAYS TO STAY CREATIVE
MAKE LISTS
CARRY A NOTEBOOK EVERYWHERE
GET OUT OF YOUR COMFORT ZONE
WRITE ON A NEW INSTRUMENT
TRY FREE WRITING
TAKE PHOTOS
MAKE SOUND RECORDINGS ON YOUR PHONE
GET AWAY FROM THE COMPUTER
STOP BEATING YOURSELF UP
TAKE BREAKS
KNOW YOUR ROOTS
LISTEN TO NEW MUSIC
BE OPEN
SURROUND YOURSELF WITH CREATIVE PEOPLE
GET FEEDBACK
READ A BOOK
GET OUT OF THE HOUSE
PUT YOURSELF IN NEW SITUATIONS
GO AND SEE THE SORT OF BAND YOU HATE
COLLABORATE
DON'T GIVE UP
PRACTICE. PRACTICE. PRACTICE
ALLOW YOURSELF TO MAKE MISTAKES
GO SOMEWHERE NEW
WATCH FOREIGN FILMS
TAKE RISKS
BREAK THE RULES
DO MORE OF WHAT MAKES YOU HAPPY
READ A PAGE OF THE DICTIONARY
LISTEN TO OTHER PEOPLES CONVERSATIONS
CREATE A FRAMEWORK
STOP TRYING TO BE SOMEONE ELSE'S PERFECT
GET AN IDEA-WRITE IT DOWN
CLEAN YOUR WORKSPACE
FINISH SOMETHING
Don't believe everything that people tell you – That's thirty-four ways to stay creative!
Recommended Reading For Drummers 
The New Breed – Gary Chester
The New Breed II – Gary Chester and Chris Adams
The Drummer's Bible – Mick Berry and Jason Gianni
Recommended Reading For Any Musician 
Modern Reading Text in 4/4 – Louis Bellson and Gil Breines
Odd Time Reading Text – Louis Bellson and Gil Breines
Teaching Rhythm – Joel Rothman's