THE WISHING WELL BIO
The Wishing Well is a seven-piece folk-rock band originally hailing from Melbourne, Australia. Since their formation in 2008, they have played 1,600 international shows on various tours and sold over 26,000 CDs independently.
All of The Wishing Well's music is written and arranged by lead vocalist Jai Larkan, who has previously supported artists such as Bob Geldof, Andy White, Liam Ó Maonlaí and Tim Finn. The band has shared the stage with performers such as David Gray (musician), James Morrison, Seal, Eric Bibb, Joss Stone, The Dubliners, Arlo Guthrie and Korn.
They have played at festivals such as the Queenscliff Music Festival (Australia), Blue Balls Festival (Switzerland), Edinburgh Fringe Festival (Scotland), Montreux Jazz Festival (Switzerland), Skagenfest (Denmark), Nibe Festival (Denmark), Galway Sessions (Ireland), Sankt Hans Festival (Denmark), Labadoux Festival (Belgium), Arts Festival of Far North Norway (Norway), Canterbury Arts Festival (England), Place de Fagot Festival (Belgium), Rhythm Festival (England), Across The Tracks (England), Cropredy Folk Festival Fringe (England), Cathedral Quarter Arts Festival (Northern Ireland), Neun Naumbuerger Naechte (Germany), Open Flair Festival (Germany), Little Woodstock Festival (Germany), Geigenrock (Germany).
The band have released four independent albums, Life on the Border (2008), Fire in the Valley (2010), Black Dragon River (2014) and Live In Germany (2015).
---
WHAT DID I DO WITH THE WISHING WELL?
I found a posting on the UK Music Jobs website 'Band Seeking Bassist, Drummer & Cellist for a 4-month European tour'. It immediately sparked some interest for me, as I'd been thinking how much I'd wanted to do a longer tour and I had nothing anything booked in my diary past Mid-July 2019.
So, after a short Skype interview and an online video audition. I received the first set of the 15 songs I had to learn for the tour. Each one was filmed and uploaded to YouTube. The first time I had done this kind of audition, I think it was a great way of learning songs by adding a little bit of pressure to get it learnt and done.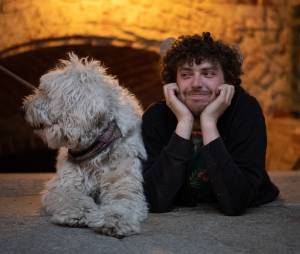 The tour consisted of 3 months of booked gigs at hotels, art venues, concert halls, festivals and street performing all around Germany. We even had our own (huge) tour dog with us for the entire time who was called Mr Lebowski.
There were 6 band members in total. Jai Larkan (Australia) – Lead Vocals/Piano, Rivkah Larkan (USA) – Violin, Bonnie Schwarz (England) – Cello, Tiffany Anderson (New Zealand) – Violin, Léo Rocha (Brazil) – Bass Guitar and Me (Wales) on drums. As you can see it was an extremely international band and only made possible because of the internet.
---
EUROPE 2019 TOUR DATES
July 19 – Lutterbeker – Lutterbek (near Kiel) – Germany
July 22 – Bulow's Garten Lounge – Kuhlungsborn (near Rostock) – Germany
July 27 – Liederfest im Spatzennest bei Weidach – near Ulm, Germany
August 3 – Folkrock im Park – Blaubeuren (near Ulm) – Germany
August 7 – Umsonst und Draussen – Landshut (near Regensburg) – Germany
August 10 – Heimatfest – Spremberg (near Dresden) – Germany
August 30 – Moorfest – Isernhagen (near Hannover) – Germany
August 31 – Kulturgewaechshaus – Glauchau (near Chemnitz) – Germany
Sept 7 – Larifari – 88299 Leutkirch (near Munich) – Germany
Sept 13 – Das Kulturgewaechshaus Birkenried (near Ulm) – Germany
Sept 14 – Kleinkunstkeller – Bietigheim-Bissingen (near Stuttgart) – Germany
Sept 20 – Gasthaus Linnenschmidt – Ostercappeln (near Osnabrueck) – Germany
Sept 27 – Kulturkneipe Hirsch – Metzingen Glems (near Ulm) – Germany
Oct 2 – Alte Weberei – Nordhorn (near Osnabrueck) – Germany
Oct 6 – Rittergut Treben – Treben (near Leipzig) – Germany
Oct 11 – Kesselhaus Lager – Singwitz (near Bautzen) – Germany
Oct 12 – Klein Erzgebirge – Oederan (near Chemnitz) – Germany
Oct 13 – Liederbuch at Sankt Barbara – Lichtentanne (near Zwickau) – Germany
---
BEFORE YOU KNEW ME – LIVE 2019 @ KESSELHAUS LAGER, SINGWITZ, GERMANY
---
MASQUERADE – LIVE 2019 @ KESSELHAUS LAGER, SINGWITZ, GERMANY
---