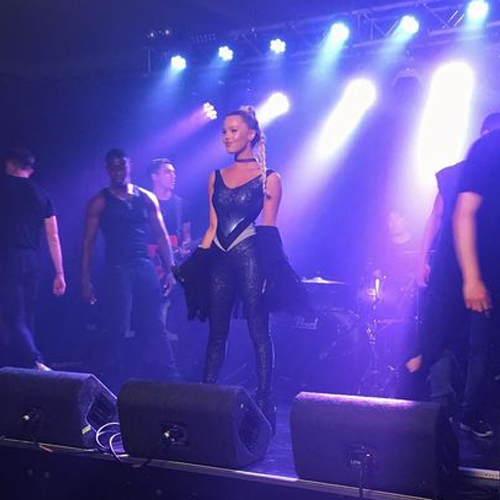 BETSY-BLUE ENGLISH'S BIO
Whilst 'it's Thursday tho?' may sound like an" I'm trying to be a kooky, Tumblr girl!" kinda name, it actually bears a lot of meaning to this blog and who I am. 'It's Thursday though' is, in fact, a really irrelevant lyric from a song my old band and I wrote. Proud to say we were finalists in the X Factor UK 2014. But you probably already knew this, haha.
I'm fortunate to be in a situation where I have the freedom to dress up and wear what I want almost every day. What I'm saying is… I have to basically put an outfit together and try to look acceptable every day of the week. Even on a Thursday and no one cares about Thursday. Sorry Thursday. Since leaving my convent school and my ankle-length skirt and teal blazer behind… I'm now in a job where expressing myself is encouraged and I feel there is no better time to start a fashion blog.
But what sets this blog apart from most fashion blogs is that you'll see my love for both music and fashion combined. The majority of my blogging content will be fashion but you'll also get an added update on music shenanigans. Expect hasty outfit posts from tour buses, and features on fabulous people I meet along the way of my musical journey – along with a lot of leather, lace, Moschino and (faux) fur of course.
---
WHAT DID I DO WITH BETSY-BLUE ENGLISH?
I performed with Betsy-Blue English on E4's Stage School as her drummer for 2 episodes.
We were in a battle of the bands and we were up against 5 or 6 other bands from her school. It involved two days of shooting one at The Ritz Rehearsal Studio in Putney, London and the other in Oslo, a restaurant/gig venue in Hackney.
We also spent a further half a day recording in a studio in south London with a producer called Jake Tench and his studio was in a large shed at the back of a house. Although on that day we weren't joined by Betsy-Blue as she did her vocals somewhere else.
The first shoot was at The Ritz Rehearsal Studio and I didn't have any knowledge of what or who the show was about. It was a slightly strange experience being thrown into the deep end of a production that had been running for about 20 episodes already.
Stage School was a 'scripted reality TV show. The definition of scripted reality or structured reality is the reality television format of putting people into scripted situations without scripted dialogue. Some examples of structured reality television are Made In Chelsea, The Only Way Is Essex (TOWIE) and The Bachelor.
I've never seen an episode of Made In Chelsea, The Bachelor or TOWIE so I had no idea what to expect during the recording. I thought the shoot was a documentary about a stage school and the journey the students were on. We started by shooting the 'rehearsal' for the battle of the band's competition.
Betsy-Blue was singing the song  The Dog Days Are Over by Florence + The Machine and she even had a troupe of male backing dancers. We recorded an initial rough demo of the vocals and instruments on the first take and then that audio was pumped back into the room so we could mime for the next 2 or 3 passes of filming. This is a common practice when you have a limited amount of cameras. If you use the same audio for different takes it is much easier in the editing process to match them up.
At the end of the rehearsal recording, we shot a scene for a pre-rehearsal pep talk from Betsy-Blue on what she wanted us to do during the song, what to wear and some general idle chit-chat. I was then swept into the drama of it all. A very flamboyant gentleman enters the room hurling all sorts of abuse and put-downs towards Betsy-Blue.
This gentleman was Josh Harwood who appeared to be Betsy-Blue's arch-nemesis on the show. I was in a state of confusion as I wasn't sure if we were filming a scene or whether or not I was allowed to comment back to him.
I didn't make a comment, but they did reshoot the scene for a second time (with a little less confusion and sparks). They then took further shots of our faces looking shocked and appalled. In one of the dramatic takes, I recall Josh calling Betsy-Blue a frog in a dress, but please don't quote me on that.
And that was a whirlwind wrap for the first shoot at The Ritz rehearsal studio.
The second day of recording happened a couple of weeks later at Oslo. Which was unfortunately not Oslo, Norway but a very nice venue in Hackney, London.
I had played at the venue with Orlando Seale and The Swell in the previous December for the launch of our NomNom Chocolate bar single Wrestling.
My second day of filming started extremely early in the morning as the previous day I had been at a wedding on the outskirts of Reading. I had to catch the first train into London to collect my gear before the shoot.
The one major downside to Oslo as a music venue is the venue is up 3 flights of stairs and they don't have a lift! And as I'm sure you can imagine this is a challenge at the best of times, especially on limited sleep and after a wedding, but the show must go on.
On this shoot, there was a lot of sitting around for the day. It was interesting to see how they organised the event. There were about 20 to 30 people max. in the 'audience' for the day made up of cast members, friends and family.
The first thing I noticed when I watched the recording back was how they used several different angles and techniques to make the room look much busier in the editing process.
The second thing I noticed during the recording process was that they kept cast members who seemed to have genuine rivalries or dislikes apart from each other. They would be chaperoned by a member of the production team and kept isolated in another part of the building or off the set until it was time for them to record their scenes. This is to keep it as firey and genuine as possible on camera.
When it finally came around to filming our performance we were again going to mime the same recording from The Ritz Rehearsal Studio. Betsy-Blue was getting pretty annoyed and upset because we were all under the impression that we were going to be recording live for the battle of the bands.
It especially didn't help when the next act came on a played the same song with a rock band and performed it in a more upbeat and energetic way.
Needless to say, we didn't win the competition. A band whose name I can't find won the battle in the end which brought the second shoot for the day to an end.
Here is the instrumental from our recording session without Betsy-Blue.
---