If You Are Looking For Drum Lessons For You're Child Then You're In The Right Place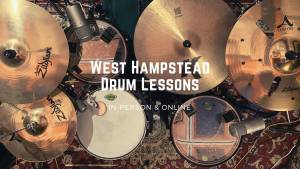 Welcome to Andrew Gallop's website for drum lessons in the borough of Camden, London. Andrew is a professional drummer and drum teacher based in West Hampstead. With over ten years of teaching experience, Andrew has taught hundreds of students both privately and in local schools throughout the borough of Camden and the wider London area.
He offers drum lessons from his high-spec drum studio for drummers of all abilities and ages starting from ages 5 to adults.
The studio is used both for teaching and recording projects for artists around the world so the students get access to the same facilities that Andrew uses to record tracks that you might hear on the radio or TV.
The studio itself is located in West Hampstead (NW6), North West London. The studio also has excellent public transport links with buses from both West End Lane (C11, 139, 328) and Kilburn High Road (Buses – 16, 189, 316, 32, 332, 632, 98). West Hampstead Underground, Overground and National Rail Thames Link (5 min walk). As well as on-street parking available via the RingGo app.
You can see the studio in action on Andrew's online teaching website DrummerGallop.com. If you want 1-2-1 drum lessons then you can come to the same studio and make use of these facilities and Andrew's wealth of drum teaching and performing experience.
Andrew believes that every student is an individual, we all learn in different ways and at different speeds. so Matt is passionate about finding each student's best way to learn and helping them achieve their best results. For some, this means grade exams but for others, it could mean playing your favourite songs, learning new genres, drum solos or anything else you might be interested in. No matter what you want to learn, during each lesson, you'll learn the fundamentals so you'll gain a full and rounded skill set to become a great drummer.
As long as you're having fun, you'll be inspired to keep learning.
To help you make that decision many teachers have online teaching content so you can get a feel for how they work before you contact them. Below you will find a video of me teaching a beginner drum beat.
Interested In A FREE Trail?
Learning to play can seem daunting. If you are unsure about playing, why not get in touch and come try it out with a 30-minute FREE trial Lesson!
Either fill out the form below or by visiting my Contact Page.
Or alternatively, you can find out more about the lessons Andrew provides by visiting his Lessons page.
Some Boring but Important Stuff
Andrew's qualifications include a BA (Hons) in music.

He is enhanced DBS & Child Protection Level 2 certified and has public liability insurance for his studio so all the legal stuff is covered.
If you want to find out more about me, what my experience is and what I'm about then check out the about Andrew page of my website.
You can also visit my online teaching website at DrummerGallop.com.