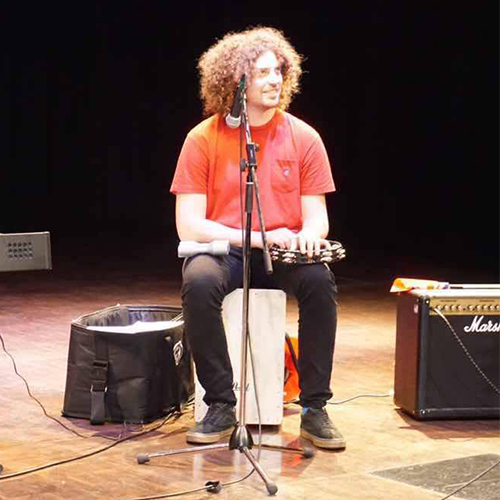 UKCN'S BIO
UKCN Education is a leading international education group based in both the UK and China.
Our head office is in London and we have other branches in Manchester, Newcastle, Chester, Nanjing and Shanghai.
We provide a specialised and professional service to assist Chinese students to gain entry into the 10 tops universities in the UK such as Oxford, Cambridge & UCL.
---
WHAT I DID WITH THE UKCN
The UKCN is still and probably will remain one of the strangest and most enjoyable gigs I have ever had the pleasure of performing in.
Out of the blue in August 2017 I got a text from the singer of River Fury, Dan, asking if I was about in a week to play some percussion at a show with him at the Sarah Siddons Theatre, London.
He was very vague about the whole event. The text read;
"Soundcheck is at 1 pm. I guess I'll send you some 'Live Recordings' of our rehearsal for you to play with so you have a vague idea what to do. Performance art 3 pm"
I was sent some rough demo's recorded on a phone to rehearse too over the next two weeks. There were 3 songs to learn: Ain't No Sunshine – Bill Withers, With or Without You – U2 and Time After Time – Cyndi Lauper.
I turned up at a gig with plenty of time to spare and asked the receptionist if there was a gig going on today. Nobody seemed to know of any other gig apart from a Chinese event full of children visiting from China. This didn't sound like the kind of gig I was meant to be playing at.
Dan and the others turned up about 15/20 minutes later as there was still a bit of confusion as to whether or not I as was in the correct location. It turned out I was and we were playing in the Chinese visitors' concert as the English cultural music section.
Nobody could quite decide where we were going to be performing and this was in a constant state of flux. Eventually, the decision was made for us to play 2 sets. Once at the opening of the show and the second at the finally the of the show just before the awards ceremony and final flag procession.
---