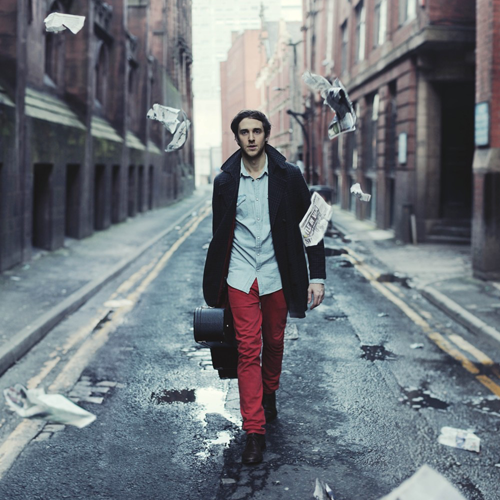 ROBBIE'S BIO
Robbie Boyd is a singer, songwriter and musician from London, United Kingdom.
This British singer/songwriter has performed live on ITV's This Morning twice; written a song with the legendary Ray Davies; caught the attention of Sir Tim Rice and been regularly aired on Absolute Radio, Xfm and various BBC radio stations including Graham Norton's show on BBC Radio 2.
Boyd has always enjoyed performing to audiences around the globe. In previous years he has performed in various European countries and also further afield, including Argentina and Japan. He has been invited to Nashville on more than one occasion to record, perform and write with other musicians.
Boyd and his band have supported artists such as McFly, The Feeling and The Kooks. They have played at several events and festivals in the UK and sold out several headline shows in London including The Borderline, The Barfly and Bush Hall.
In 2010, Boyd's musical talents attracted the attention of Sir Tim Rice who included Boyd's songs "Oh Alaska" and "New Hampshire" in his BBC Radio 2  series American Pie. The following year, Robbie and his band won the "Alternative" category of Live and Unsigned and were also named London's Busker of the Year. In 2013 they reached the top 20 of MTV's Brand New for 2013 competition.
Boyd has released several singles and EPs, all of which have received positive reviews. In May 2014 he released his debut album So Called Man which was equally well received.
---
WHAT DID I DO WITH ROBBIE?
I met Robbie whilst I was studying at the Institute of Contemporary Music Performance (ICMP) in Kilburn, London. I was studying on the higher diploma course at the time and he was on the song-writing. The music wasn't quite my cup of tea (not that I like tea or coffee anyway) but I always like to push myself out of my comfort zone.
Robbie was always writing new material and busking around London. One of his favourite spots was in Portobello Market. We also did a lot of gigging and often not in musical venues. One such place that sticks out in my mind was Momo a Mediterranean restaurant just off Regents St. in the centre of London.
Other music venues I can remember performing in were The Half Moon, The Dublin Castle and Power's Bar.
In the summer of 2009, we recorded a 3 track EP out in the English countryside with a producer called Will Puxelly who went on to work at Island Records. We spent a weekend at Will's studio recording Red Queen, Tripping Over Love and Stepping Stones.
Red Queen
Tripping Over Love
Stepping Stones
Robbie also filmed most of the. recording and made it into a music video for Stepping Stones.
---