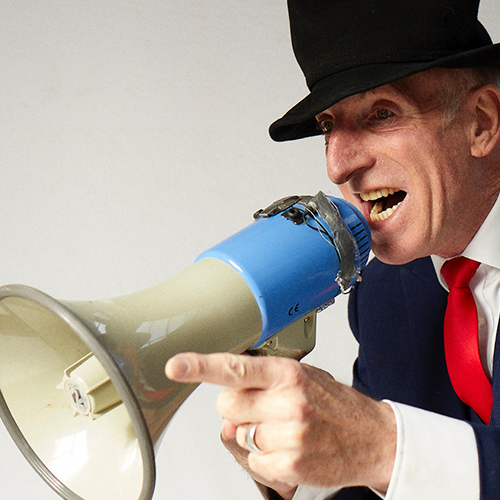 THE PHENOMENAL RISE OF RICHARD STRANGE BIO
It was in New York that I had really started to get ideas for Cabaret Futura. At that time there were some very exciting performance art spaces in Manhattan. Places like The Kitchen, PS1, The Artists' Space and the Franklin Furnace would have regular events featuring the likes of Laurie Anderson, the dancer/choreographer Karole Armitage, avant-garde musician/composer Rhys Chatham and the proto stand-up/monologist Eric Bogosian. I had the idea to present this sort of collaborative and fringe work in a mutated European cabaret environment.
Arriving back in London from New York, still flying on adrenalin, I didn't even consider the difficulties involved in running a weekly club, which would feature anything up to 10 different acts, performing in a number of different media on any given night.
I just thought, 'This is a great time. After all the cynicism and nihilism of late punk, 'ART IS COOL AGAIN.'
It was a case of needing somewhere for myself to play and, since it didn't yet exist, inventing it. I told the journalist Simon Fellowes at the time, 'Rock clubs pride themselves on the pathetic perpetuation of crass rituals and stale values, which are of no use to me' I did all the administration from home, with Rene helping out with artwork and publicity, booking acts and organising equipment.
I remember the agonising wait to see if anyone would actually show up that first freezing December Sunday night.
The lineup for the first night was, as I recall, an extravagantly bequiffed Richard Jobson, reading poetry he had rather freely adapted from Sylvia Plath and Marguerite Duras; a two-piece synthesizer band called Blancmange; a mime artist whose name I no longer remember; stand-up comedian (now an actor) Keith Allen, who performed naked, with a steak and kidney pie which he fashioned into a surreal Lord Charles-type glove-puppet; and Rene and I performed a four-minute-long dance-performance version of the DM Thomas novel 'The White Hotel', which she had choreographed and I had written some deconstructed music for.
Cristina, still in London, had agreed to perform something, and it was to have been her only London show, but characteristically some real-life, last-minute Madame Bovary-inspired drama intervened and she didn't make it.
The atmosphere that night was excited and conspiratorial, and enough people turned up to cover costs. (Although if everyone I have subsequently met who assured me they were there that night had actually turned up, I should have needed to have booked the Albert Hall, not the Latin Quarter.)
After an actual, as well as a proverbial 'month of Sundays', we transferred to Monday nights, in a much larger room downstairs. Although it was in the same building, it had a different entrance and a different address, 13, Wardour Street. It is this space that I always remember now when I think of Cabaret Futura.
The club is now the ersatz 'Oirish' pub called Waxy O'Connor's, which has absolutely nothing to recommend it except its convenience as a shortcut from Wardour Street to Rupert Street in inclement weather. Down a tacky mirrored staircase to a small lobby, all gilt and red flock wallpaper, like a Louisiana whorehouse, where our enchanting door girl, Giussepina de Camillo, (now a fashion designer) would meet and greet.
She always arrived for work accompanied by her pet, an 11-foot-long python named Sainsbury, who would lay dreamily coiled at her feet under the cash register for the entire evening.
Once past the slumbering serpent, the guests would pass through a small archway and into the main performance room, dimly lit with a small, raised stage with steps leading up from the floor. Tables and chairs ranged halfway back, a pall of blue cigarette smoke over the bar, and the exquisite thrumming of gossip.
It had always been my intention to style the physical space of the club on the German model immortalised, if not invented by, Auden and Isherwood.
In her book 'Cabaret', the writer Lisa Appignanesi wrote in 1984, 'Of all the Cabarets to spring up in Britain over recent years, it is Soho's Cabaret Futura, the brain-child of Richard Strange, which bears most atmospheric resemblance to its Weimar kin. Cabaret Futura became the focus and meeting place for the energy which fed the explosion in fashion, photography, filmmaking and music. More than that, it suggested a reaction to television, the growing demand for a live venue to serve specific, not standardised tastes.'
Many reviewers typically took the easy way out and described the club as 'decadent', but I never really thought that it was. I mean, I was decadent, but I didn't think the club was.
It was debauched, but not decadent. I acted as a conferencier as well as an occasional performer. Sometimes I would perform one or two songs solo, sometimes a short set with a pick-up band. There were also times when paralysed by drink, I would watch transfixed from the bar, a spectator at my own party, as the evenings seemed to run themselves.
The regular audiences of 300 or more were drawn from an extraordinarily wide age-range-from 17-50 on a typical night. The style was dressy and eccentric, but not elitist, and so was thought to be more relaxed than some of the contemporary peacock palaces in London.
Sounds magazine wrote:
'Civilisation in a cellar in Soho. People of every stripe-and none-cram in without crushing each other, show mutual respect in the small courtesies needed to keep a packed crowd sweet, flaunt their individualism and yet point no fingers at the substantial minority in the crowd who choose to make no extravagant visual statements about themselves'.
Its popularity and singular atmosphere meant that I had an extensive choice of performers who were keen to appear there. Since the entrance fee was only £1.50, budgets were tiny, and because there were so many performers each night, nobody was ever paid more than £25.00.
The true and quintessential character of Cabaret Futura was indelibly established when The Event Group did their first show for me.
The Event Group was a performance art/living theatre collective of an indeterminate number, based around the inspired visionary Tom Castle, and the physically insane Mick Jones. In addition to the nucleus of these two members, the group could also feature, for example, eight electric bass players, or 22 cricketers in full kit.
After their first show, they were ever-present regulars, who would seep into the club in the afternoon like a patch of damp, to prepare for their evening show. They infiltrated the club like a virus, altering the space with installations, costumes, confrontation and cruelty.
Sometimes they were like Antonin Artaud on absinthe, other times the Marquis de Sade on Mandrax.
One of their masterworks, Haircut, Sir?, centred around a four-hour-long ritual head-shaving of one unfortunate group member, lashed horizontally upside down to a pole, like an awful scene from Lord of the Flies which had ended up on the censor's floor.
As each of the other acts that night finished their set, (it was rare for anyone to play a set of longer than 20-minutes) the lights would come up on the Event Group in another part of the building, their soundtrack cranked up to Ultrasound, and the naked writhing figure would be shorn of a few more locks.
WHAT DID I DO WITH THE PHENOMENAL RISE OF RICHARD STRANGE?
In the summer of 2018, I went on a short tour of the UK with an amazing bunch of musicians who were Steve 'Boltz' Bolton (The Who, Paul Young, Atomic Rooster, Scott Walker and many others), Terry Edwards (Gallon Drunk, The Higsons, Tindersticks, Nick Cave & The Bad Seeds, Tom Waits and PJ Harvey), Atar Shafighian (Jamiroquai), Lily Bud (Sarah Jane Morris, Band of Holy Joy), Andrew Gallop (Orlando Seale, Harpo Smith, Fortnight in Florida) and Dan Johnson.
Summer 2018 Tour Dates
"…No room for error, it's all been arranged.

This is the year of Richard Strange."
Richard Strange and his new band are at the stunning Bush Hall tonight.
What a venue, and what a band. I wish I had taken note of all your names, but as I was having too good a time, I didn't, and my sincere apologies. You deserve a better critique.
But. What a band.
It is a rare thing to find talent, skill, and conviction in the same package today. But what a wonderfully crafted show, Richard seems to just get better and
better these days, and with the extraordinary talent of Lily Bud beside him, and a stunningly tight and eclectic package of musical talent behind him, who knows what the future may bring.
The only slight downside was the comedic talent of yours truly up a ladder with a pair of scissors, in the midst of the show trying to cut away the net from the failed balloon drop.
Another moment of delight and embarrassment from a career peppered with similar moments.
To see them if you can, if your night comes close to mine, it will not have been wasted, it will be a moment to savour.
Thank you, Richard Strange, Lily Bud, and your ensemble of exceptional musical talent.
Hugh Jones – 10th June 2018
I attended the Greatest Show on Earth on Saturday … and you can this week:
Richard Strange's 1983 concept album "The Phenomenal Rise of Richard Strange" told the bizarre story of in which a celebrity rose up based on his own BS and the "will of the people" to become the elected president of Europe. After being trashed by the gutter press, he then falls tragically from grace, facing abduction etc. Yet, his belief in himself is unchallenged by all of this, trapped in his self-image. Listen to the finale of the album "I won't run away" for an insight into the album. Of course, nothing like this could happen in real life … Reagan, Trump, Brexit etc. !!!
The Phenomenal Rise of Richard Strange was hailed the greatest concept album ever made. This reproduction of the album with a live band is timely and a poignant reminder of the problems that arise when our political leaders believe their own BS.
Find out more about Richard Strange, Leader of Proto Punk band "The Doctors of Madness" at Richard Strange and find an exclusive interview with him at "The Music of Business"
The band is exceptional.  It includes Steve 'Boltz' Bolton on searing guitars, electric and acoustic (The Who, Paul Young, Atomic Rooster, Scott Walker and many others). Terry Edwards plays the Saxophones (several of them at one time), guitar and percussion (Gallon Drunk, The Higsons, Tindersticks and PJ Harvey). Atar Shafighian is a keyboard player supreme, also adding melodica (Jamiroquai). Lily Bud lifts the roof with her vocal talents (Sarah Jane Morris, Band of Holy Joy). Andy Gallop holds the whole show together with precision drums and percussion (Orlando Seale, Harpo Smith, Fortnight in Florida) together with Dan Johnson on electric, stick bass and ambient electronic interventions. It's an outstanding lineup to match the theatre of the absurd. All supported by the excellent Johny Brown on ambient textures and soundscapes (Band of Holy Joy) with sound design by the magnificent Jo Lord and visuals by Inga Tillere. In attendance last night, legendary producer John Leckie (Muse, Bill Nelson, Doctors of Madness and many more).
O2 ACADEMY LEICESTER – 12th JUNE 2018
TONIGHT // The Psychedelic Furs @pfurs w/ support from The Phenomenal Rise of Richard Strange @StrangeRichard Doors @ 7 pm – Tickets available Remember – only small bags are allowed into the venue – no larger than a small handbag/laptop size.
A very special evening with the fabulous @pfurs and equally amazing @StrangeRichard on the same bill -we loved every second of last night – click on the link to see our fb gallery -> http://bit.ly/2t4NOn6  –  photos by @VonPip
---